Can PVRV avoid damaging the tank when pump beer to kegs?
---
Can PVRV avoid damaging the tank when pump beer to kegs?

It is necessary that a pressured fermenter has a safe valve. The safe valve is also called pressure&vacuum relief valve. It will open to relief the pressure when the fermenter is over-pressured, or to let air in when the fermenter has a negative-pressure inside.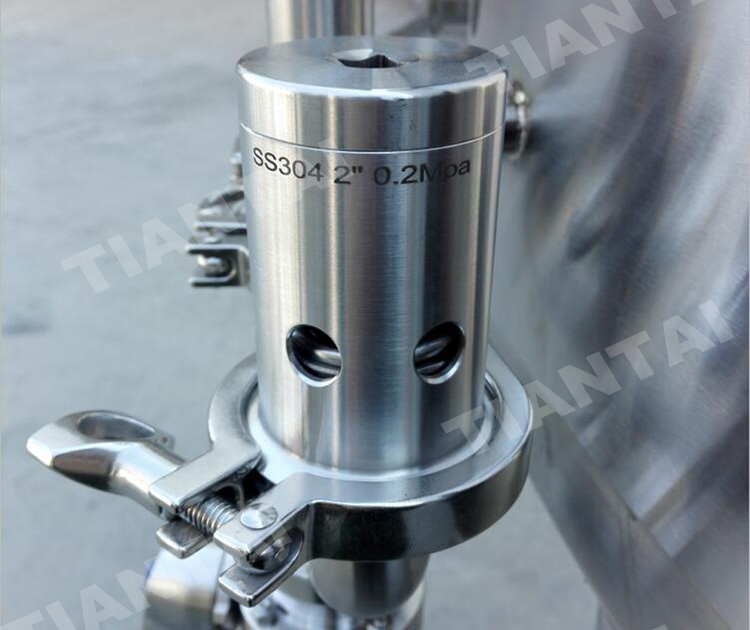 We have a customer asked this question recently: Can vacuum pressure relief valve on each fermentation tank avoid damaging the tank when pump beer from fermenter to kegs?

The pressure&vacuum relief valve is used when a over-pressure/vacuum condition is slowly caused.
If the change is big and sudden, the small holes of the vacuum pressure valve won't react in time fast. It is easy to know if there is a over-pressure inside the fermenter as it can be seen on the pressure meter, but not easy to know the vacuum pressure. So when you foresee a sudden change of the pressure, suitable solutions should be taken in advance.

a. There is already pressure inside the fermenter (normally is 1bar-2bar): normally it won't cause vacuum pressure when recirculate the beer with a pump, as more CO2 might escape from the beer and filled in the fermenter. So CO2 back pressure or N2 back pressure is necessary, to avoid foam and vacuum pressure when the beer level is lower and lower.

To pump beer, please use the Diaphragm pump rather than Centrifugal pump, Diaphragm pump is gentle and safe for fermenter.

b. There is no pressure (or very low pressure) inside the fermenter: then please open the CO2 arm/CIP arm a little, so a sudden vacuum pressure can be avoided.

Feel free to leave comment or message when you have different ideas.

Edited by Jana
Sales manager
brau@cnbrewery.com
---
---
---
For professional brewery solution and exactly quotation, please feel free to send inquiry below.