Serving from kegs, fermenters or brite tank?
---
Serving from kegs, fermenters or brite tank?

Most of people probably know that serving beer from kegs is very common in many pub or restaurants. Exactly we have some other choices for beer serving instead of using kegs, such as serving from fermenters or brite tanks. But which one is the best solution? Here are some comparation for your reference as below:

(1)Selling beer from the kegs
Absolutely a cold room is must needed in the backs of the bar or taproom. The beer would be filled from the fermenters to kegs that saved in the cold room. And there are beer line connected between the kegs and beer taps. The advantages of serving beer from kegs is that no need to occupy the fermenters for selling beer, it will not influence your beer brewing schedule, and no need you to worry about the sanitation status around the raking arm. The disadvantage is that need more investment on extra cold room, which also need extra footprint.

(2)Selling beer from fermenters
The beer line will connect the racking arm and tap directly now, the insulation on beer line is must needed. It is more suitable for serving beer in short distance, so it is easier to clean the beer lines after finishing one selling day without losing much beer. Since we do not need to build the cold room, it is the most economical way to sell beer. The disadvantage is that if the beer in fermenter cannot be sold out on time, the fermenters will be occupied that may will influence the beer brewing schedule.

(3)Selling beer from brite tanks
Now the brite tank could be single wall or double wall. Its connecting principle is almost same as serving from fermenters. Absolutely it is good for a fast turnaround of fermenters, what is more, the brewmaster no need to connect and disconnect the beer lines as the brite tanks with much bigger capacity than kegs. But extra brite tanks also need extra investment.

Edited by Laura
Sales Manager in Tiantai Company
Email: trade@cnbrewery.com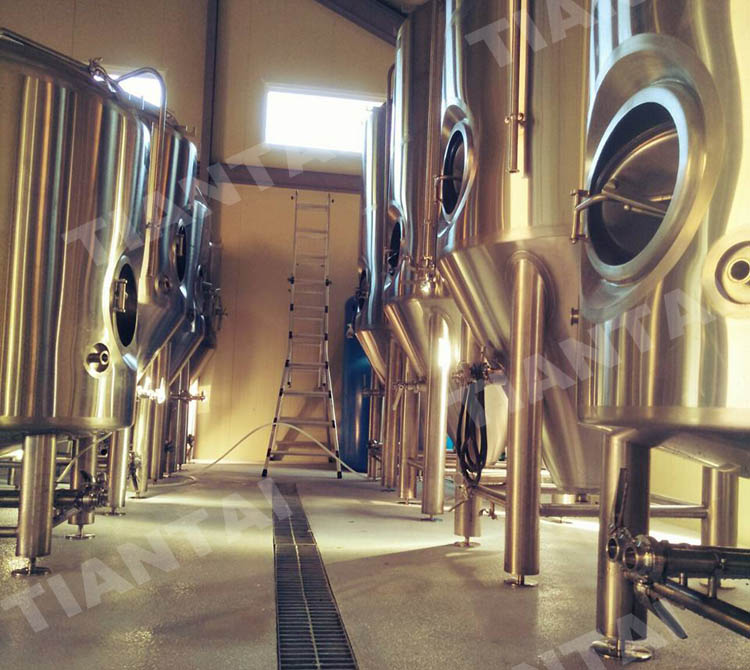 ---
---
---
For professional brewery solution and exactly quotation, please feel free to send inquiry below.