The significance of ratio between grain and water
---
The significance of ratio between grain and water

The ratio between grain and water would influence the concentration of wort greatly. In general, this ratio in mash tun is higher, around 1:3.5, because dense mash is beneficial to protein degradation. On the contrary, this ratio in cereal cooker is lower, around 1:5. Dilute mash will contribute to improving starch gelatinization and liquefaction.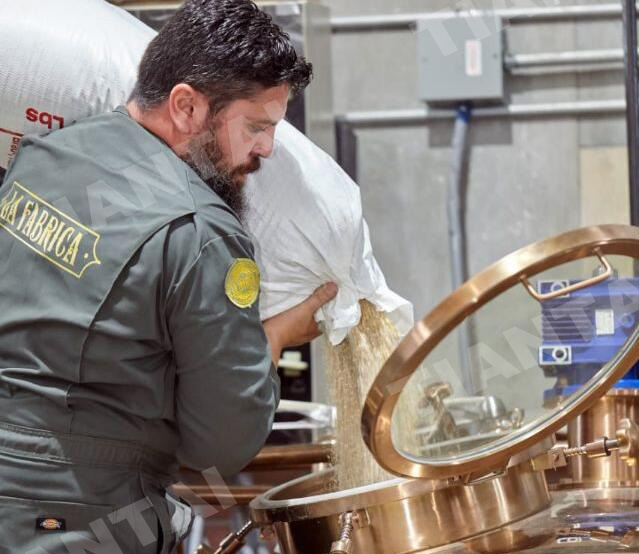 The ratio between grain and water has important significance to enzyme reaction, extract yield and wort composition etc.

1.More dense the mash is, More stable the high temperature resistance of enzyme will be. However, the reaction speed would slow down. βstarch enzyme would produce more fermentable sugar and Proteolytic enzyme would produce more soluble nitrogen&amino acid with dense mash.

2.When the mash concentration stays between 8% and 16%, it would not have any effect on enzyme. When exceeding 16%, the enzyme action would become slower. Therefore, the first wort concentration of light beer would controlled within 16% while dark beer should be increased to 18%-20%.

3.If the mash concentration is too high, there would be amount of sugar remaining in spent grain bed, which would affect extract yield. If the mash concentration is too low, the water used for sparging is less. In this case, it is hard to clean the rest sugar out. It would affect extract yield as well.

4.For light beer, dilute mash is adopted. The ratio between grain and water is around 1:(4-5). The sparging water is less, so the concentration difference of first wort and final water is tiny. Vice versa, please adopt dense mash for dark beer, around 1:(3-3.5), so that the aroma of malt can be dissolved into mash as much as possible.

Edited by Vicky
Sales manager in Tiantai Beer Equipment Company
Email: tank@cnbrewery.com
---
---
---
For professional brewery solution and exactly quotation, please feel free to send inquiry below.