What is the main operation points for bottle washer?
---
What is the main operation points for bottle washer?

The main operation points for bottle washer as follows:

1)Bottles in and out
The used bottles need to complete separate with new bottles, absolutely put an end to second pollution.

2)Pre-soak
Control water temperature at 35-40℃ for 1min. For saving water, the soaking water is better to choose the water after sprayed with warm water to realize reusing.

3)Soaking with caustic liquid
Adding with solid NaOH, which is safe and convenient. It is better not to use liquid NaOH as it is easy to splash. The caustic liquid concentration will be different for different bottles:
New Bottles: 1.0±0.2%
Used Bottles with Logo: 2.2±0.2%
Used Bottles after Logo Rinsed: 1.4±0.2%
Normally it will not use additive, only the additive will be used when cleaning recycled used bottles.

4)Spray with caustic liquid
The concentration of caustic liquid which use for spray should lower than the concentration of soaking caustic liquid. The first step of spray temperature control at 70℃,second step control at 60℃, which can reuse by cooling 70℃ caustic liquid to 60℃, heat cooling water to 40℃ for pre-soak and warm water spray.

5)City water spray
Use 40℃ warm water spray, then use 26℃ water, last spray the bottles with city water.

6)Others
The water pressure need to control above 0.1Mpa, the spray nozzles and head need to keep smooth, the water keep certain pressure when spray on bottles. When bottles out caustic groove need to cooling temperature down gradually in case bottles blast.

Edited by Derrick
Sales Manager in Tiantai Company
Email: brewery@cnbrewery.com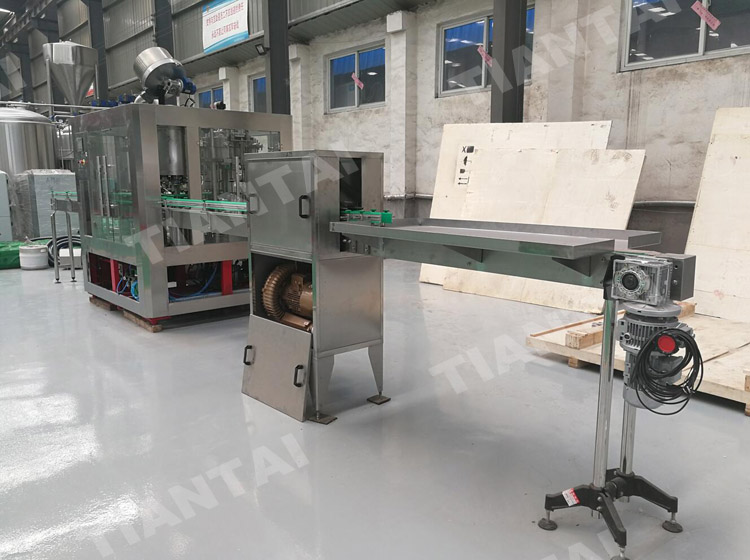 ---
---
---
For professional brewery solution and exactly quotation, please feel free to send inquiry below.