Home brewing system-maximize your interesting in beer
Home Brew System
breweryequipment
---
---

Home brewing system-maximize your interesting in beer

Brief introduction
Stainless steel Home/pilot brewing equipment is designed for home brewery who brew for hobby, recipe testing, teaching etc..
The design ideas of homebrew are from the professional beer brewing system but it is with a more flexible and economical structure. Professional home brew system will bring you impressive experience of a professional brewing process. It is not a simple replacement for brew master but the start of realizing dream!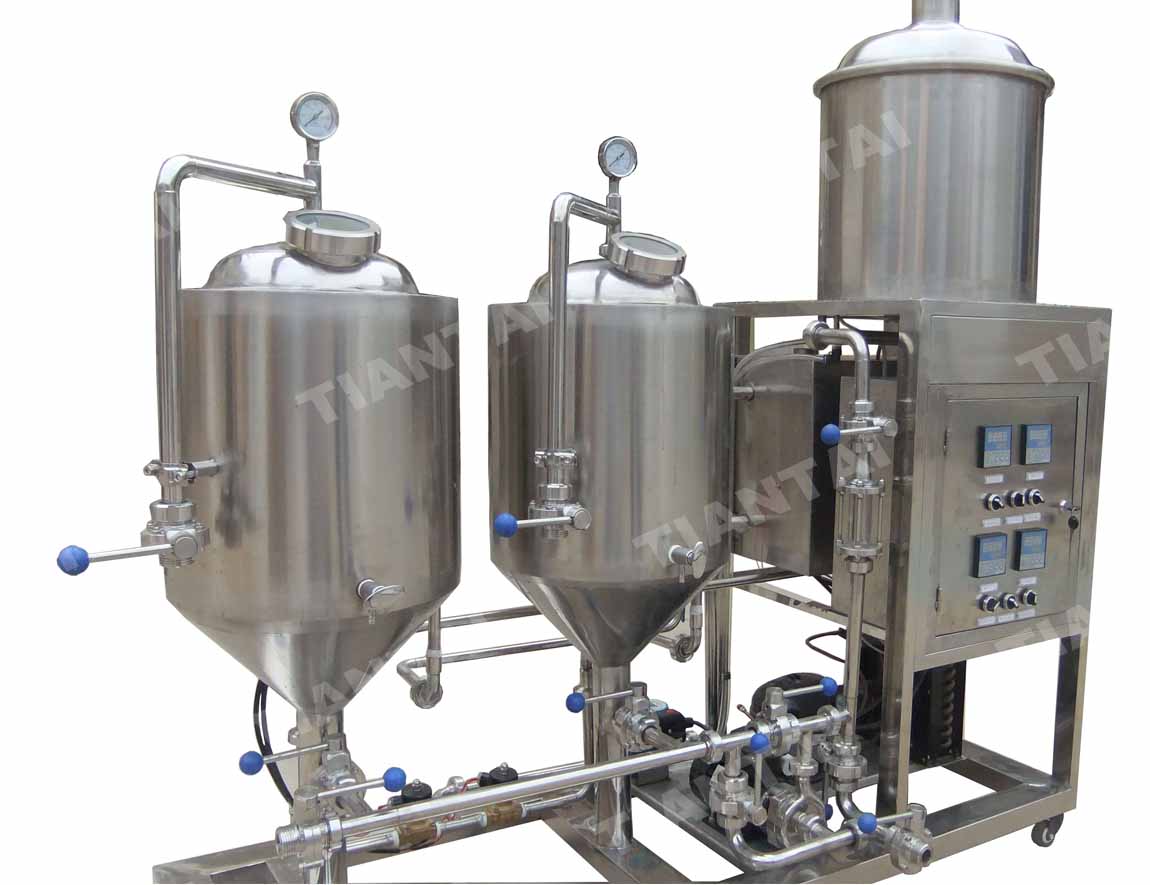 Quick overview of home brewing system

| | |
| --- | --- |
| Material | SUS304 |
| Thickness of Shell | Interior Shell 3mm; Exterior Shell 2mm |
| Interior Finish Polish | 0.2~0.3 μm |
| Welding | Gas shielded arc welding |
| Control | Semi-automatic |
Main Configuration of home brewing system
A.Brewhouse System
1x 50L mash&lauter&kettle tun
Dished top and sloped bottom
Heating: Electric;
Power: 8kw

B.Fermentation Tank
2x50L stainless steel fermentation tanks
Insulation: Polyurethane
Glycol Jacket: Dimple plate
Pressure gauge

C.Cooling Unit
1x100L glycol water tank
1x 1hp chiller

D.Controlling Unit
Anti-power Plastic painting/ SUS
Reference operating
method
Its operation is very simple. And that is why it is very popular in the home brewing cycle.

Mashing
-At the beginning, put the portable detachable inside shell(with false bottom ) into the brewhouse tanks
-Add water
-Set the suitable temperature on control panel and start to heat -Then put the grain into the inside shell
-At the same time,reset the temperatures according to the recipe
-After about one hour,it will finish mashing

Lautering
-Using a holder to raise the inner shell gradually to lauter and remove the spent grain.
-Reset the temperature for starting boiling after lautering

Boiling and adding the hop
-During boiling, add the hops at appropriate

Contact us immediately to get latest specification and price of home brewing system.
---
---
---
For professional brewery solution and exactly quotation, please feel free to send inquiry below.