100 HL Steam heating mash unit
Steam Heating Mash Unit
brewery
---
---
100 HL Steam heating mash unit

Brief introduction:

The mash unit ( brewhouse) is one important part for 100 HL beer brewing system. Generally it is combined vessels of the mash tun, lauter tun, brew kettle and whirlpool tun.

The steam heated mash unit is quite popular for most of micro and commercial beer brewery plant exceed 500L. Compared with electric heating, it is more easily to get better quality wort with steam heating. As we know the steam will circulated around the kettle instead of contacted with wort directly. Besides, the heating strength can be easily controlled by adjusting the flow and pressure of steam.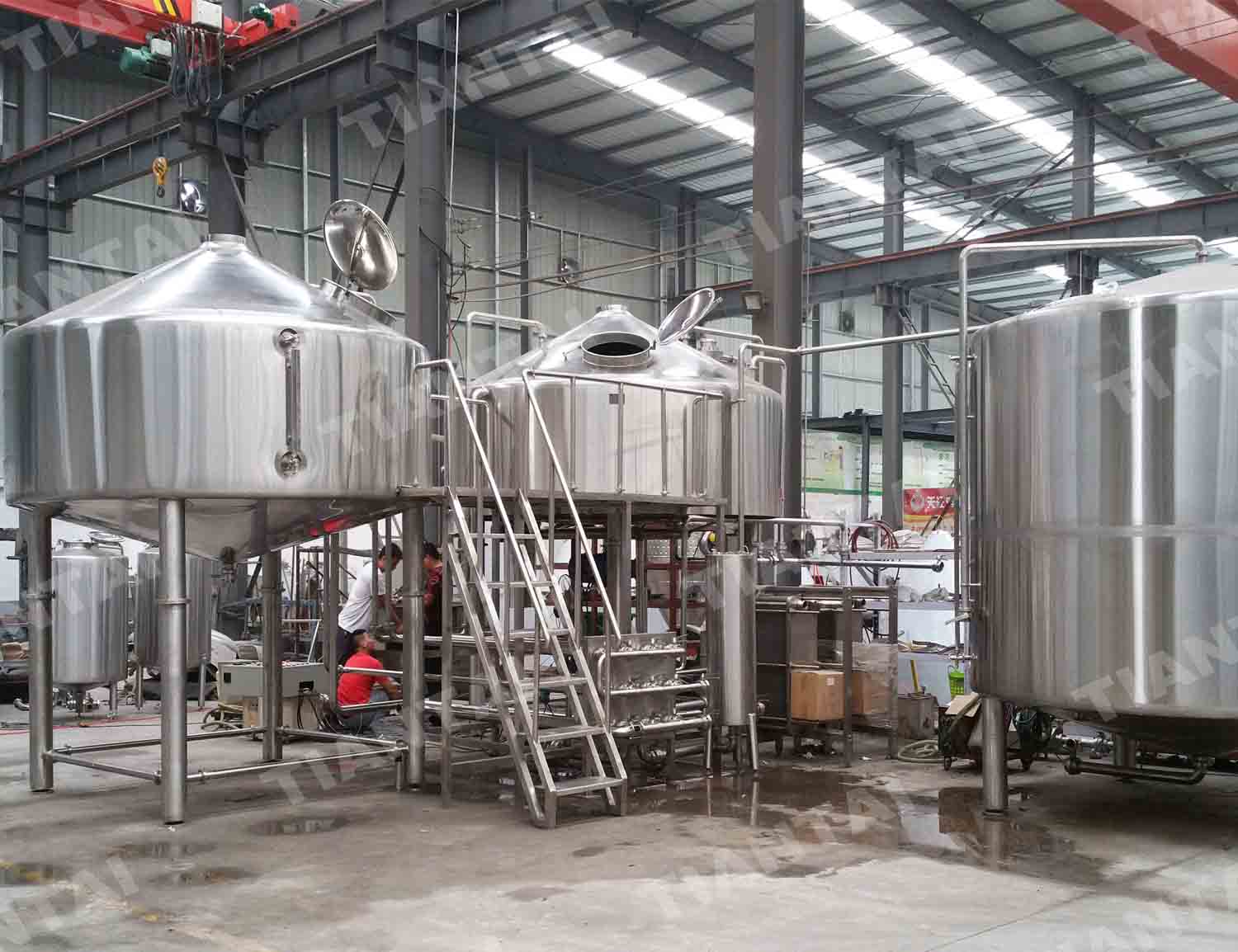 Quick overview of the steam heating mash unit

Our TIANTAI steam 100 HL mash tun are insulated and jacketed.Both of infusion mashing and decoction mashing are optional for you. Several mash unit structures as below:

+ Two vessel brewhouse: Mash/Lauter Tun ( with false bottom)+ Ketttle/Whirlpool Tun +HLT
+ Three vessel brewhouse: Mash Tun + Lauter Tun + Kettle/whirlpool tun+HLT
+ Four vessel brewhouse: Mash Tun + Lauter Tun + Kettle + Whirlpool tun+HLT

| | |
| --- | --- |
| Material | Stainless steel or red copper |
| Tank capacity | 10000L+ minimum 25% head space |
| Heating method | Steam ( Electric and direct fire for optional) |
| Brewing capacity | 2-6 batches per day |
| Electric supply | 3phase/380(220, 415,440…)v/50 (60)Hz |
| Footprint | >500M2 (The whole beer brewery system ) |

And two steam discharging ways available: By steam condenser or discharging out directly.
According to your local emissions regulations and your own requirements, we will design you the suitable one.

Main configuration of the steam heating mash unit
- Interior Shell: SUS304/316 full welded; TH=3mm
- Exterior Shell:SUS304/316 full welded; TH=2mm
- 80mm rock wool for insulation
- Acid washing and passivating the Interior finish to 0.2-0.3um
- Speed adjustable grain rake (scraper blade for optional)
- False Bottom/Filter
- Steam condenser with spray nozzles
- Completely stainless steel work platform
- 40 m2 Two stages or single stage plate heat exchanger
- Yeast feeder
- PID or PLC control panel
- The Diesel fuel/Natural gas/LPG/electric burner
- Foot print about 500 M2 according to different beer production

Contact us immediately to get latest specification and price of the 100 HL commercial mash tun.
---
---
---
For professional brewery solution and exactly quotation, please feel free to send inquiry below.