2 BBL Horizontal Brite Tank
Horizontal Brite Tank
fermenter
---
---
2 BBL Horizontal Brite Tank
Horizontal bright tanks/brite tank is usually put in the place where the space is limited in height. For save some space the tanks can be stackable. And usually you can see it in European due to old building and height issues.
Besides due to old brewing technology, some European brewmasters remove the yeast from top of fermetner and transfer the beer into horizontal bright tank for conditioning after primary fermentation from open top fermenter,. And brewmaster also brew season beer with horizontal bright beer tank when at suitable temperature. Furthermore the horizontal brite tank can be single wall without cooling jacket and put in the cold room.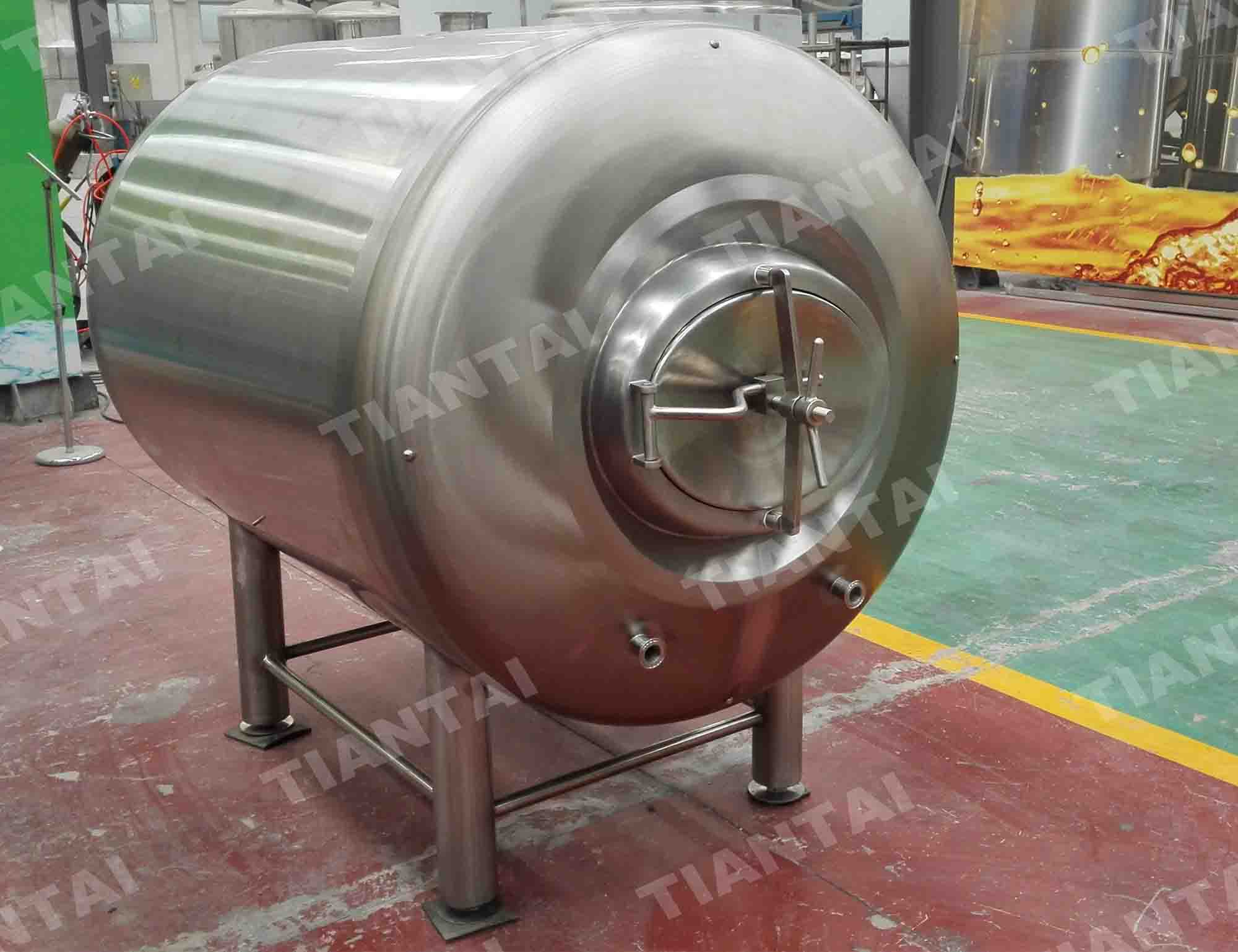 Quick overview of 2 BBL horizontal bright beer tank
| | |
| --- | --- |
| Capacity | 2BBL |
| Dimension | Φ820x1400mm |
| Body of Tank | Horizontal |
| Location of Manway | Side mounted manway |
| Glycol Jacket | Yes |
| Insulation | Polyurethane 80mm |
| Heavy Duty Leg | 4 pcs |
| Carbonation Device | Yes |
| Welding | 100% TIG welding with pure argon gas shield |
Main configuration of horizontal bright beer tank
- Shell: SUS304 full welded TH=3mm
-100% TIG welding with pure argon gas shield
-Interior Finish: Overall polishing to 0.2~0.4 μm without dead corner
-Glycol Jacket: Dimpled plate on side
-CIP arm with 360° coverage CIP spraying ball
-Mechanical relief valve 2 bar on CIP arm
-Shockproof pressure gauge on CIP arm
-Rotating racking arm and port on cone with butterfly valve
-Tri clamp discharge arm with butterfly valve
-Thermowell for high accuracy temperature sensor
-Carbonation port and stone
Contact us immediately to get latest specification and price of 2 BBL horizontal brite tank.
---
---
---
For professional brewery solution and exactly quotation, please feel free to send inquiry below.