Why the beer with yeast flavour and how to prevent it?
---
Why the beer with yeast flavour and how to prevent it?

The yeast flavour is uncomfortable for beer, especially occurs yeast autolysis. The beer with yeast flavour generally with higher PH, darker color and bad foam performance. There generally several reasons may cause this problem:

(1)Added too much yeast, or used anile yeast which could occur autolysis easily.
(2)With a unreasonable temperature controlling. At the end of diacetyl reduction period, if the beer temperature at bottom of the tank with big difference to the up side, it will cause a strong convection, that would be a difficulty for yeast settling.
(3)If the settled yeast did not being discharged on time, the old yeast would stay for a long time at bottom cone, that would cause a higher temperature at bottom which could easily give rise to autolysis.
(4)The higher beer storage temperature and longer beer storage time both could give rise to yeast autolysis and releasing fatty acid. That would cause uncomfortable aroma flavour and not good for the beer foam.
(5)The sanitary problem such as the piping or dead corner mould will cause the yeast flavour in beer.

And there are also some methods could prevent the above problems:

(1)The added yeast capacity cannot exceed 1%, and must within eight generations. A frequently inspection is needed to ensure the yeast under a good condition.
(2)Under the end period of diacetyl reduction, the temperature inside of the tank should be controlled evenly, especially for the up and bottom of the tank inside.
(3)The yeast should be discharged on time at the late period of fermentation for avoiding yeast autolysis.
(4)Please pay attention to the content of Decyl Decanoate in beer. Its content would rise if occurs yeast autolysis.

Edited by Laura
Sales Manager in Tiantai Company
Email: trade@cnbrewery.com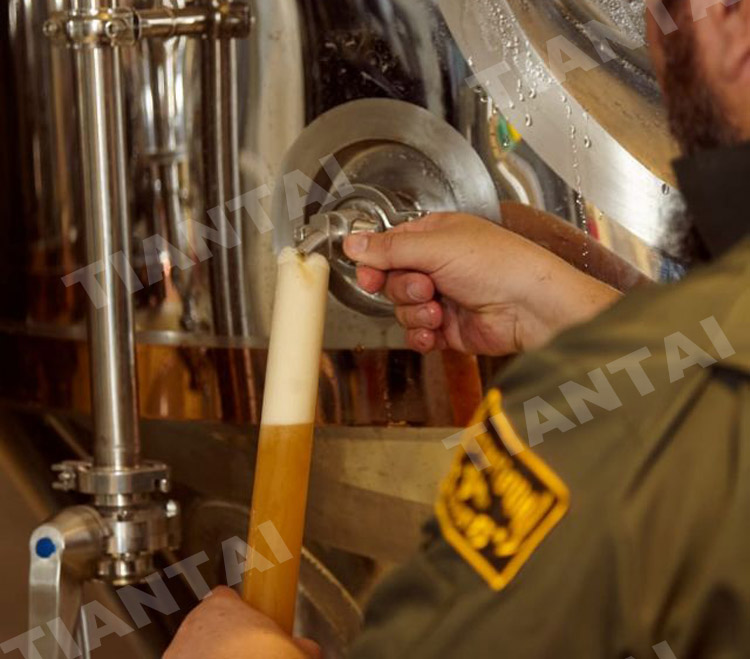 ---
---
---
For professional brewery solution and exactly quotation, please feel free to send inquiry below.